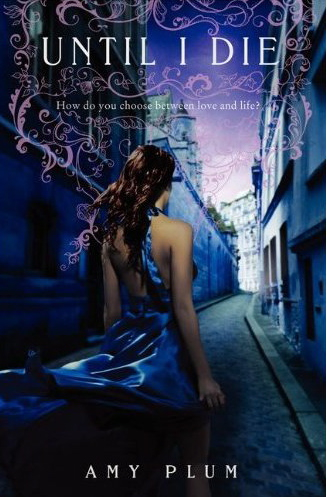 This review will contain spoilers if you haven't yet read the first book in the series, DIE FOR ME!
First words
Having recently re-read
DIE FOR ME
, I went and brought UNTIL I DIE, eager to carry on the story! I adore the cover of this book; it's beautifully designed, and I love the shiny silver swirls that surround the title.
So, what's it about?
"My life had always been blissfully, wonderfully normal. But it only took one moment to change everything.."*
Vincent is a reverant; an immortal being that is compelled to die in order to save a humans life. His 'life' is put in danger every time he tries to save someone - and that was his existence. Until he met Kate.
He has sworn to fight against his very nature to be with her, to grow old with her.
But, Kate can't stand by and watch the boy she loves die over and over - death haunts her past, her parents died in a car crash just a short time ago..
Resisting death causes Vincent immense suffering, but he's determined to find a way to overcome it. So is Kate. Unable to sit around and watch Vincent suffer any longer, she's determined to find another way, and in the process discovers something that might put a stop to their enemies, the numa, for ever. But her actions aren't going unnoticed...
She's unknowingly putting everyone she loves in danger.
And in the process, made herself not just a player in the game ... but a target.
Thoughts and opinions
This book flows nicely from where
DIE FOR ME
left off, and Kate and Vincent bounce beautifully off one another from the start.
Jude is along for the ride, adding his flirty amusement to the story at all the right times. Again, there's a bit of a wondering if Jude 'likes' Kate, or if he really is just that flirty with everybody!
So, Vincent's trying to find a way to fight his urge to die, so to speak, and Kate's desperate to help him. However, they are both starting to keep secrets from each other. When Vincent start's to
look
like death Kate knows something is wrong, but Vincent won't tell her whats going on. So she decides to go and look herself, leading her to the old areas of Paris, trying to discover people who might be able to help her.
I truly believe their love is true, strong and real, but the fact that Vincent's death is imminent all the time, is a huge deal breaker for Kate. Saying it like that, it could be easy to think 'that's selfish, he can't help dying' ect, however, this is a girl who has had her parents die recently, and had to move all the way from america, to Paris. To be honest, I don't think many people could knowingly watch someone they love die again and again, waiting for them to come back to life each time, and in Kate's case this feeling must be multiplied.
Numa (the evil revenant's) are those who became revenants by
taking
life as apposed to
saving it.
This is such a simple idea, and it works so, so well, because they are essentially the same, yet so totally different at the same time.
That ending .... oh my goodness!! WHAT a cliff hanger!
Desperate
to read the next book - counting down the months till it is released!
Final verdict
Fabulously gripping and stunningly written, UNTIL I DIE is an brilliant addition to this fabulous trilogy - the end will leave you screaming out for more as soon as possible!
About the author
DIE FOR ME
was the first novel by Amy Plum. This book, UNTIL I DIE, is the second in the trilogy and the final book, IF I SHOULD DIE, is due to be released in May 2013!
Visit her website at:
http://www.amyplumbooks.com/
Check out her blog at:
http://www.amyplumbooks.com/blog/
'Like' her on FaceBook:
http://www.facebook.com/amyplumfanpage?ref=sgm
Follow her on Twitter:
@AmyPlumOhLaLa
More books like this?
FALLEN by Lauren Kate
EVERMORE by Alyson Noel
CLOCKWORK ANGEL
by Cassandra Clare
*This quote is taken from the blurb of UNTIL I DIE.